What strings should I use? Basic guitar stringing
What Strings Should I Use?
'What strings should I use?' is a question every guitarist should ask.
The answer depends on several factors, including the type of instrument, the style of play, and the sound you want in general.
Every category of music today uses guitar from time to time, so it's useful to know how to string one even if you're only going to record a couple notes. This basic tutorial teaches everything you need unless you're an expert guitarist (in which case you know all these things, already).
A guitar string's tone comes from:
1. String Gauge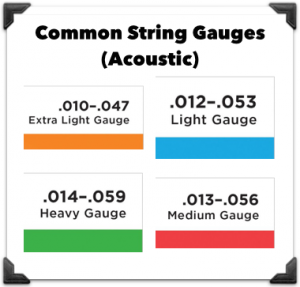 Extra Light
Light
Medium
Heavy
(Note that light strings on an electric guitar will have smaller gauges than light strings on an acoustic guitar).
Consider heavy strings for —
Heavy strumming – because they offer more durability, more sustain, and less breakage.
Slide playing/drop tunings – because they hold a tighter string tension.
Low-action guitars – because they have tighter vibrations, and are therefore more resistant to fret buzz.
Unamplified acoustic playing – because they're louder.
Jazz – because that style of music doesn't use much note bending.
And consider light strings for —
Beginner playing – because it's easier if you haven't yet developed hand strength and calluses.
Blues/Soloing – because it's easier to bend notes.
Vintage guitars – because they put less stress on the neck.
Small-body guitars – because they just sound better.
Fingerpicking – because they're more responsive to delicate finger-work.
2. Metals
What strings should I use? depends also on the metal used to make the string.
Electric strings use:
Nickel-Plated Steel – which has a good combination of warmth and brightness, a strong picking attack, and is the most popular option.
Pure Nickel – which is warmer than nickel-plated steel, and has a classic old-school vintage sound.
Stainless Steel – which is most resistant to corrosion, least prone to finger squeaks, and has a good combination of both brightness and sustain.
Titanium, cobalt, chrome and copper may also figure in, rarely.
Acoustic strings use:
80/20 Bronze (aka Bronze, Brass) – which is 80% copper/20% zinc, and is the most popular option.  It has a bright, clean sound, but can lose some of its brilliance after only a few hours of play, as the metal corrodes quickly.
Phosphor Bronze – which is similar to 80/20 bronze, but with phosphor added to prevent oxidation and increase the life of the strings.  The trade-off is that they're a little less-bright in comparison.
Silk and Steel (aka "compound strings") – which have greater flexibility and lower string tension, resulting in gentler, mellower sound.  They are commonly referred to as a hybrid between traditional metal strings, and the nylon strings of a classical guitar.
3. String Core
What strings you should use depends also on the core. String manufacturers wind metal around the core. The core comes in two shapes.
4. Winding Method
Technically you can find strings wound with three different styles, but only two matter to 99% of the guitar-playing world:
5. String Coating
Since 1997, you can get strings with a factory-applied coating which will make them last several times longer than un-coated strings. Coated strings have a smoother feel under your fingers and "squeak" less.
However, many players insist that coated strings have less "brightness" and decreased sustain. It may also concern the guitarist that coated strings cost considerably more than un-coated strings. Whether the benefit coating may give is worth the added cost remains up to the player.